Join Ali Handley of @Bodylove.pilates @Bodylove.Mamas and Nadine Richardson @nadine_shebirths as they talk all about preparing your body for birth from a unique 20+ years of experience teaching pilates and yoga to pregnant and postpartum women.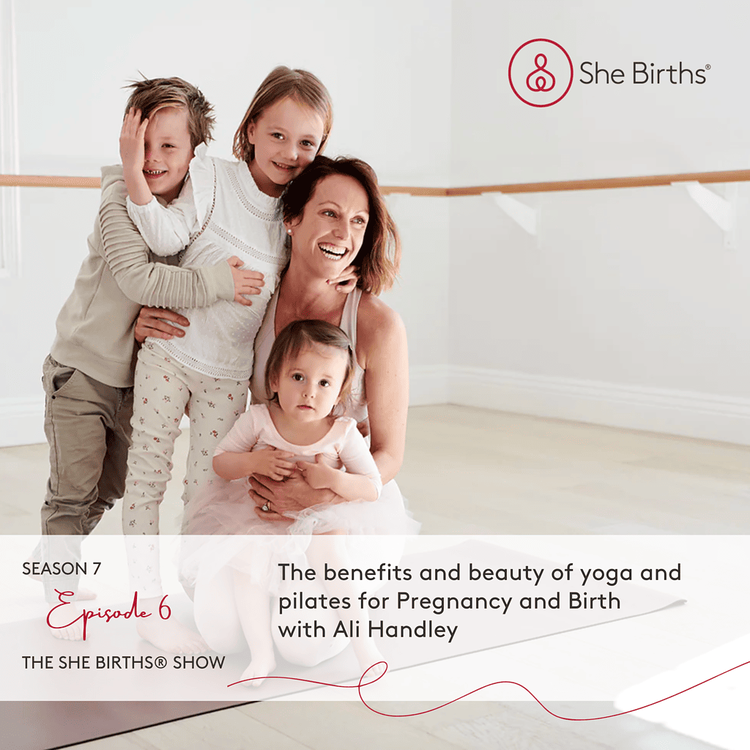 Nadine is one of the original creators of a unique and dynamic prenatal yoga beyond the norm in Australia.
She is the only Australian yoga teacher included in the award-winning yoga documentary @yogawoman.tv, and multiple yoga classes are inside every She Births® course for you to enjoy.
Ali and Nadine share the importance of taking care of ourselves through life transitions and the powerful hormonal shift from maiden to mother.

They discuss whether it is safe NOT to exercise during pregnancy because of the enormous benefits for body, mind and childbirth. They talk about building strength physically as well as emotionally.

Topics covered include: –
Why is it essential to do prenatal yoga and Pilates
The differences and similarities between them
Movements they recommend as a starting point
How powerful our bodies are in pregnancy
How to be safe on the mat
The importance of exploring what feels good
How pilates and yoga can strengthen your intuition for birth
How developing bliss will enable you to ride the waves of pain with ease Check out this episode in our podcast – link in bio
Go to https://bodylove-mamas.com/ and sign up for a free trial to experience the best pre and postnatal pilates. Use this unique code SHEBIRTHSLOVES to get a fantastic one-month free (on top of the standard 14-day free trial).
And go to shebirths.com/prenatal-yoga for our 7-day introduction to the foundations of safe and effective prenatal yoga. All for free.
The post We have to experience both bliss and pain in life appeared first on shebirths.com.