Recipe – Eggplant Parma
There are many ways to induce labour naturally and we have found that it helps to take a 'complex intervention' approach, which means learning and doing all of them! Perhaps one will tip you over the edge, but maybe all of them synergised and worked away with your fantastic body to get you there?
The research into the She Births® Course was in part so successful because it was, in it's very creation, 'a complex intervention'. She Births® covers the broadest amount of knowledge and widest variety of tools. It is a highly comprehensive program – thus a complex intervention. We can't say if it was active birthing or the visualisations that worked.
Our content is evidence-based and is always imparted with the information on how to apply it in different scenarios. You will discover all the amazing inner and outer resources as well as given lots of cheat sheets, photo guides, video catalogues, downloads and more. And of course, a suggested natural induction protocol (during pregnancy) and specifically from 36 weeks then 37 weeks and so on.
One of the funnest ways to naturally induce labour is to be amorous with your partner to increase your bliss chemistry. Hugging, cuddling, kissing, and even nipple stimulation are fun and easy ways to build up oxytocin, your love and labour hormone.
Another fun tip we recommend is making this beautiful recipe of homemade Eggplant Parmigiana.
The recipe originates from Scalini's Italian Restaurant in Georgia, USA. The owner made that family recipe in 1977, and his wife always said that is what got her labour starting. Since then, others have followed the advice and 300 baby pictures decorate the walls of the old-fashioned restaurant! Of course, it went viral across the world, and thousands of mums-to-be swear they went into labour 48 hours after eating it.
Is it the eggplant or the herbs or a combination of it all ?! No one knows, but that is what is also fun with these old wife's tales. "There are over 40 biochemical constituents in eggplant, many of which have long been used medicinally in the Mediterranean, India, and other parts of the world," says Winston Cardwell, a naturopathic physician. It is worth a try, and in any case… IT IS DELICIOUS! Science now tells us that eggplant is full of prostaglandin, which is key to the softening and ripening of your cervix – Boom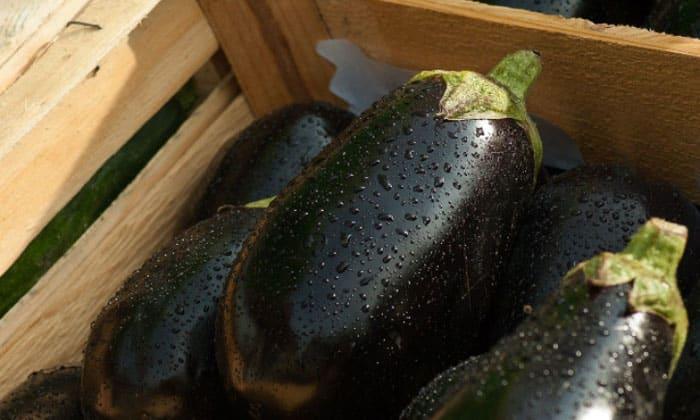 Alla Scalini's Eggplant Parmigiana (gluten-free, of course!)
Eggplant Ingredients:
3 medium-sized eggplants
1cup of gluten-free flour
6 eggs, beaten
4 cups of fine gluten-free bread crumbs (quinoa also makes a good substitute), seasoned
Olive oil for sautéing
½ Cup of grated Romano cheese
½ Cup of grated Parmesan cheese
2 cups of shredded Mozzarella cheese
2 cups of Ricotta cheese
Marinara Sauce Ingredients:
2 tbsp of chopped garlic
3 tbsp of olive oil
8 cups chopped tomatoes (fresh or canned)
1 cup onions, chopped
1/2 cup of fresh chopped parsley
1 tsp oregano
1 tsp of crushed red pepper
1/8 cup of fresh chopped sweet basil
Pinch of thyme + pinch of rosemary
1 tsp salt, 1 tsp black pepper
Preparation:
Wash the eggplants and slice into 1/4-inch thick slices. You can peel them before you slice, but you might also want to leave the skin on since it contains excellent vitamins.
Place the slices on a layer of paper towels and sprinkle with a little salt, then cover with another layer of paper towels and hold it down with something heavy to drain the excess moisture. Let them sit for about an hour.
Working with one slice of eggplant at a time, dust with flour, dip in beaten eggs, then coat well with breadcrumbs.
Sauté in preheated olive oil on both sides until golden brown.
Now make the Marinara Sauce. Lightly sauté the onions in olive oil in a large pot for a few minutes, then add garlic and sauté another minute. Add the tomatoes and bring the sauce to a boil before turning to low heat. Add the remaining ingredients, stir, cover and let simmer for one hour, stirring occasionally.
In a baking dish, alternate layers of marinara sauce, eggplant slices, ricotta, parmesan and romano cheeses, until you fill the baking dish. Cover with shredded mozzarella cheese.
bake for 25 minutes in a preheated oven at 190 degrees Celsius. Let sit for 10 minutes before serving.
Buon Appetitio !
Nadine & the She Births® Team
Liked this recipe? Want other fantastic tips for pregnancy?
Sign up for our Holistic Pregnancy Guide for free!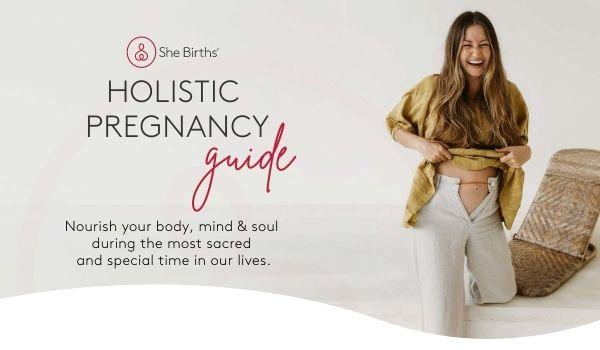 The post Pregnancy & Postpartum Recipe – Eggplant Parma appeared first on shebirths.com.